Pro Series Fly Trapper
Regular price
$24.99
Sale price
$17.99
---

BOTHERED BY THESE UNBEARABLE FLIES?

GET RID OF THEM ONCE AND FOR ALL!
You know much better than we do how much trouble flies cause!
You, your children, family, friends, pets, horses, livestock and other farm animals... We're all bothered by them.
They can even carry diseases that no one would want to contract!
FREE YOURSELF FROM THEM once and for all, easily, simply and with INCREDIBLE EFFICIENCY.
Get rid of these unbearable flies by baiting them in a place far away from your family or animals and trapping them to leave you alone!
SIMPLE AND EASY
READY TO USE IN SECONDS:
1. Install the funnel cone with its hook
2. Put your homemade bait in the tray then the tray in the trap
3. Hang your trap
And it's DONE!
You will now enjoy an environment free of flies by keeping them away.
---
HOW IT WORKS?
HIGH-EFFICIENCY: The trap attracts flies to feed on the bait. They then pass through the funnel cone which allows them to enter but not exit. When the flies are inside the net, they are trapped and cannot get out.
---
ECO-FRIENDLY: Safety and environmental protection, no need for chemicals or toxic substances, just HOMEMADE BAIT.
To bait the flies, just put some of what they like in the tray. Expired food, leftover meals, old fish bait, over-ripe fruit, fish e.g. sardines or tuna, or even pets'/horses'/farm animals' poop, etc. Yes, we know... Ewww!, isn't it? But flies just love stinking and disgusting things. So, overall you can use anything you see that can attract flies.
(More details and recommendations in the dedicated tab below)
---
REUSABLE: When the trap is full or you simply feel that there are too many flies in it, you can empty it to reuse and/or clean it as you wish.
Just flip the the funnel-cone and vacuum or shake them out! Many of our customers then use them as excellent snacks for your fish, chickens or other farm birds. (More details and recommendations in the description tab below)
It is also easy to assemble as well as disassemble and move at will. No need to buy new traps after each use. This way, you can keep and use them for longer and save money.
Ethan R.
    
GOSH! It's AMAZING! I was a bit skeptical at first, I must admit... plus when I saw the ad I was afraid it would be very expensive (about $30 to $40 each) but I took a look just in case. I absolutely do not regret it! I think this purchase is one of the best I've made this year. It works really well, it's even surprisingly efficient. I recommend it with my eyes closed.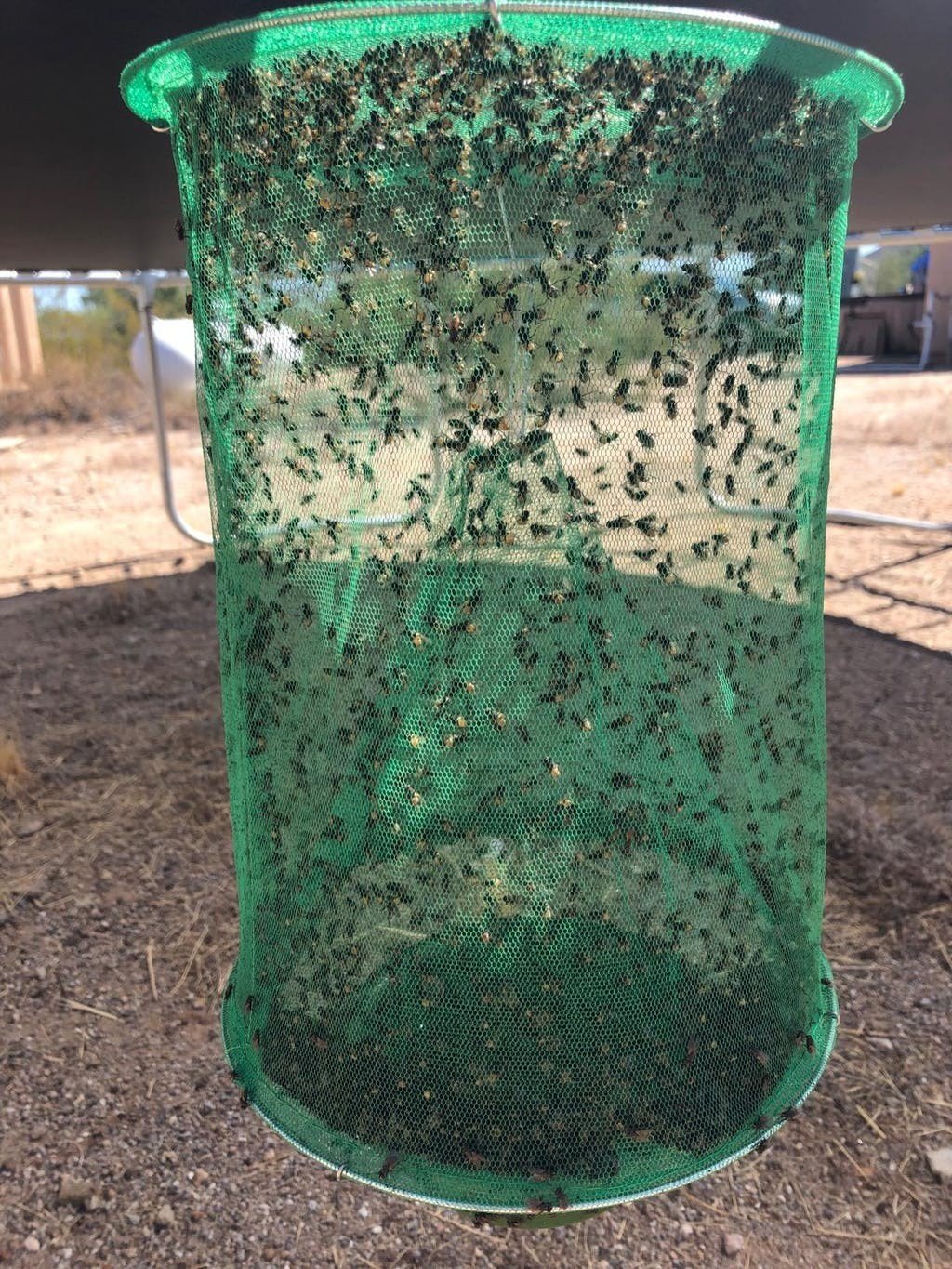 Aaron K.
    
Very effective, guaranteed. At first I didn't think it was great, but then I contacted customer service. They recommended me to read the FAQ on this page and explained that if it doesn't work, it's either badly placed or the bait is not efficient. I followed their recommendation and I placed my traps lower than I did. The results were simply incredible! And it didn't take long, I immediately felt the difference. Wow! It's so awesome!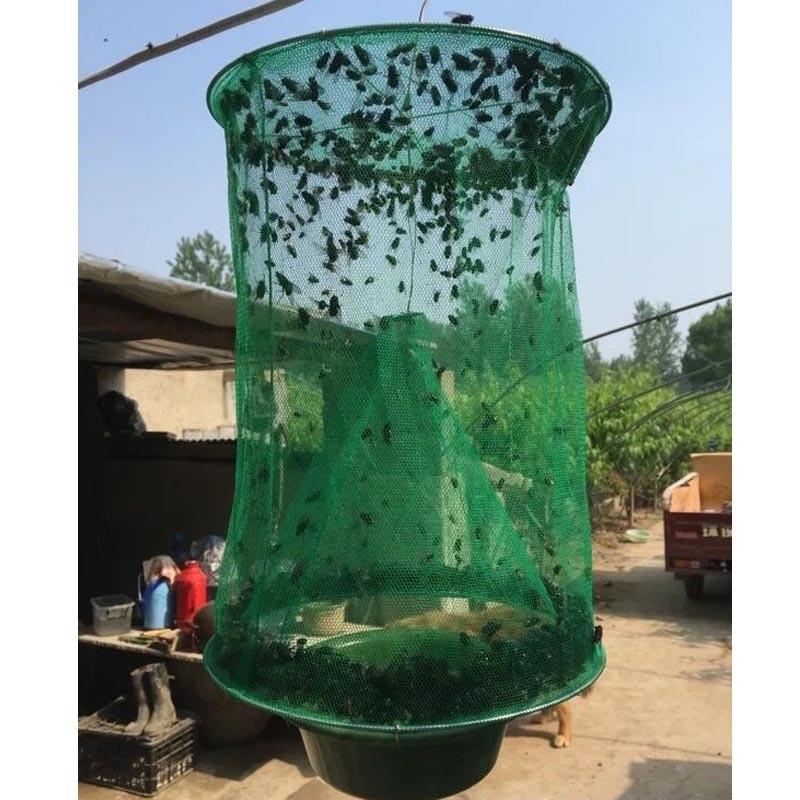 Roy K.
    
These work very well ! However maybe the little flaw is the water reservoir at the bottom is not big enough in hot country like Arizona even if they're kept outside, even under a shade tree. Evaporation occurs too quickly and it would be over half a dozen times a week to fill it up. But even with that, I'll buy more of them. (I got 10) ... Friend of mine got some too and tell me that he put some beer each time he drink one, and it works well too. Maybe I should drink more? :-p
Features:
1.Low cost, economical and durable (each set can be used for several years)
2.Easy to assemble/disassemble and move at will
3.High efficiency in fly catching
4.Safety and environmental protection: eco-friendly, no need for chemicals or toxic substances
Technical product data:
1.Materials and design developed to withstand both high and low temperatures, shocks and trap transport.
2.Bait bowl: food grade PP polypropylene ring only (in case one of your farm animals accidentally wants to taste it)
3.Sizes (approx.): diameter 25 cm, height of funnel flycatcher 32 cm, total height of trap 40 cm.
ADDITIONAL SETUP TIPS:

- The hanging location of your Fly Trap is important to get right and may take a couple of different attempts before you hit that ''sweet spot'' where flies are much more attracted to your net rather than your animal(s). We recommend that you place your fly traps in sunny and warm places for a few good hours of the day. We do not recommend placing the trap(s) inside the stable of your horses as they may see the trap as a feeder and destroy it or eat its contents!  We'd suggest instead that you place the traps around fences near paddocks or fields where your horse may be grazing for long hours on a hot summers day. Poop carts, manure piles, just outside the stables, barn, etc. are also advisory places where you'll find success with having a trap set up.
DO NOT HANG above 5ft, the majority of the flies are lower than this, so you need to make sure your trap is on the same level to have the best effect. It's vital that you hang on the same level (if not lower) than your animals that you keep whether that be horses, chickens or live stock.

- Once you find a location on your ranch that you think has a heavy population of flies, you'll need to bait your trap with a tasty, smelly snack to attract the flies away from your animals into the net. We have reviewed the main baits that our customers have successfully used in the past (Wet Cat Food mixed with Beer or Water, Bad milk, Overripe dry fruits, Rotten fish/meat, ...). You will find'em in the tab dedicated to that, right next to this one (the one in the middle).
HOW TO EMPTY TRAPS?
There are two main ways to empty them: the first is to unhook the ring that holds the funnel cone in place (the main element of the trap) and then shake the trap to gradually empty it of flies. Many of our customers use this method easily and take advantage of the fact that they can use what they take out of the trap to feed their fish, chickens and other farm birds!
The second way is simply to vacuum them, through the same funnel cone, to remove all or part of what the trap has caught. This way, you can easily clean it.
Our Advantages
FREE Shipping
Worldwide Shipping
RISK-FREE: 30D-MoneyBack GUARANTEE
Limited Quantity
Available online only